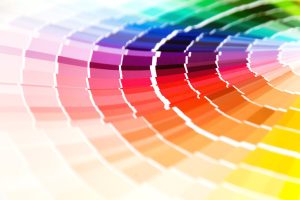 Om direct maar met de deur in huis te vallen: schilderen en zwanger zijn gaat niet samen. Tijdens de zwangerschap wordt het niet aangeraden om te verven, vanwege de chemische stoffen welke in verf zitten. Deze kunnen een invloed hebben op de ongeboren baby. Ook al ben je rustig aan het verven, het lichaam neemt deze chemicaliën wel op tijdens het inademen. En ze blijven er ook nog is zitten. Geruchten gaan dat zelfs een baby nog schade kan ondervinden als je een jaar voor het verwekken nog in huis hebt geschilderd.
Hoe zit het precies?
Het is ten eerste belangrijk om te weten dat opgedroogde verf niet schadelijk is, er komen dan namelijk geen giftige stoffen meer vrij. Dit is zowel voor verf dat is gemaakt op waterbasis als op terpentine basis. Vloeibare verf daarentegen is wel giftig.
Een veel gestelde vraag is of de damp van terpentine schadelijk is voor de ongeboren baby. Hierbij kan gezegd worden dat teveel nooit goed is. Wat ook geldt voor bijvoorbeeld tabak en alcohol. Een klein object dat geschilderd wordt zal geen probleem opleveren, maar een heel huis schilderen is niet aan te raden. Belangrijk is wanneer je een klein object schildert thuis, je dit doet met de ramen op zodat het huis goed ventileert. Als het kan, doe het ook even buiten. Dan zou het helemaal geen problemen moeten opleveren.
Het beste is om het gewoon even niet te doen en het uit te stellen tot het kind geboren is.
Kinderleukemie dankzij het schilderen
Tegenwoordig zijn er nog veel mensen die denken dat verf minder gifstoffen bevat dan vroeger, omdat tegenwoordig 'alles' beter zou moeten zijn. Helaas vat dit erg tegen, er zijn veel nieuwe vervuilende stoffen in verf. Onderzoeken hebben al vaker een duidelijk verband gevonden tussen het verven van kamers in een huis en kinderleukemie. Zo wordt de kans op Acute Lymfoblastische Leukemie (ALL) namelijk vergroot met 65% als het huis waar het kind is geboren is geschilderd voor, tijdens of na de zwangerschap. Het is tevens zelf af te raden om de eerste jaren na de geboorte het huis te schilderen.
Moet je iets schilderen? Gebruik verf op waterbasis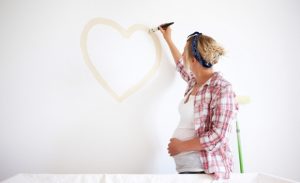 Verf op waterbasis is de beste optie als er iets geschilderd moet worden in deze tijd. Ook zitten er giftige stoffen in deze verf, maar dit wordt natuurlijk niet opgedronken. Wat uit de verf verder komt is water, wat niet giftig is natuurlijk. Wanneer je dus een klein object moet schilderen of verven tijdens de zwangerschap: kijk of je verf op waterbasis kunt gebruiken.
En vergeet niet goed te ventileren in huis.
Andere klachten bij kinderen dankzij verf
Ook ademhalingsproblemen, keelziekten, astma en allergie kunnen voorkomen. Kinderen zijn sneller vatbaarder hiervoor omdat het afweersysteem minder goed ontwikkeld is. En ten slotte ook omdat kinderen sneller ademhalen op deze leeftijd, waardoor uiteindelijk meer gif binnen komt. En dat met een combinatie dat ze er sneller vatbaar voor zijn, betekent dat er snel wat ontstaan.
Laat je altijd adviseren tijdens het kopen
Gewone verf is nooit geschikt voor een zwangere vrouw of een kind. Kinderen zitten overal aan en krijgen hierdoor ook sneller deze stoffen binnen. Zoals eerder genoemd is verf op waterbasis in ieder geval een betere oplossing, maar perfect is het nog niet. Het is altijd goed om je te laten adviseren door de verkoper. Het nadeel van een minder schadelijke verf is dat deze verf vaak minder goed blijft zitten.
Het slimste is om slechts kleine objecten te schilderen als het echt nodig is en het grote schilderwerk uit te stellen tot het kinderen wat ouder zijn. Ook kan er natuurlijk voor worden gekozen om een deel te laten schilderen als je zelf op vakantie gaat met het kind bijvoorbeeld. Maar het beste blijft het uitstellen. De gezondheid van een kind is natuurlijk veel waardevoller dan wat verf op de muur.
Hoe verf ik dan de kinderkamer?
Dit is een veelgestelde vraag wat ook te begrijpen is. Want hoe krijg je de kinderkamer geverfd als je niet mag verven?
Zelf verven is niet aan te raden, het meest verstandig is om iemand anders de kinderkamer al ruim op tijd te laten verven. Hoe eerder, hoe beter eigenlijk. Wanneer de kamer wordt geverfd, is het verstandig om zelf hier niet bij te zijn. Slaap even ergens anders bijvoorbeeld. Zorg vervolgens dat de kamer zo goed mogelijk geventileerd wordt. Dan wordt het verf snel hard en is het meeste van de chemische lucht al verdwenen voordat de baby komt. Aangeraden wordt om waterverf te gebruiken, vaak kun je na een tijd de kinderkamer toch weer ombouwen omdat je kindje dat zelf wilt. En verf dat heel lang blijft is dan ook niet perse nodig.